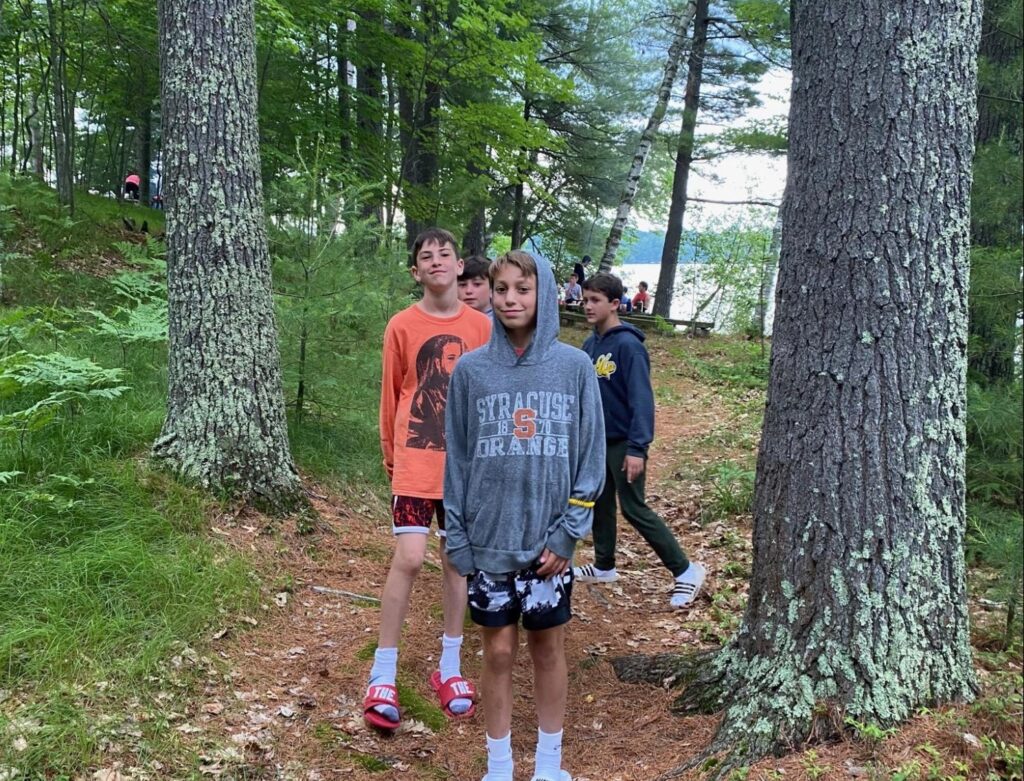 Nature Trail
Circumnavigate the perimeter of camp and immerse yourself in the beauty of the Northwoods. Stumble upon the cabin campfire sites, the archery pit and the zip line, and then find yourself back on the Campus.
Individual Campfire Sites
Every Thursday, our cabins will congregate at their individual campfire sites that provide the perfect setting to have a relaxing cookout.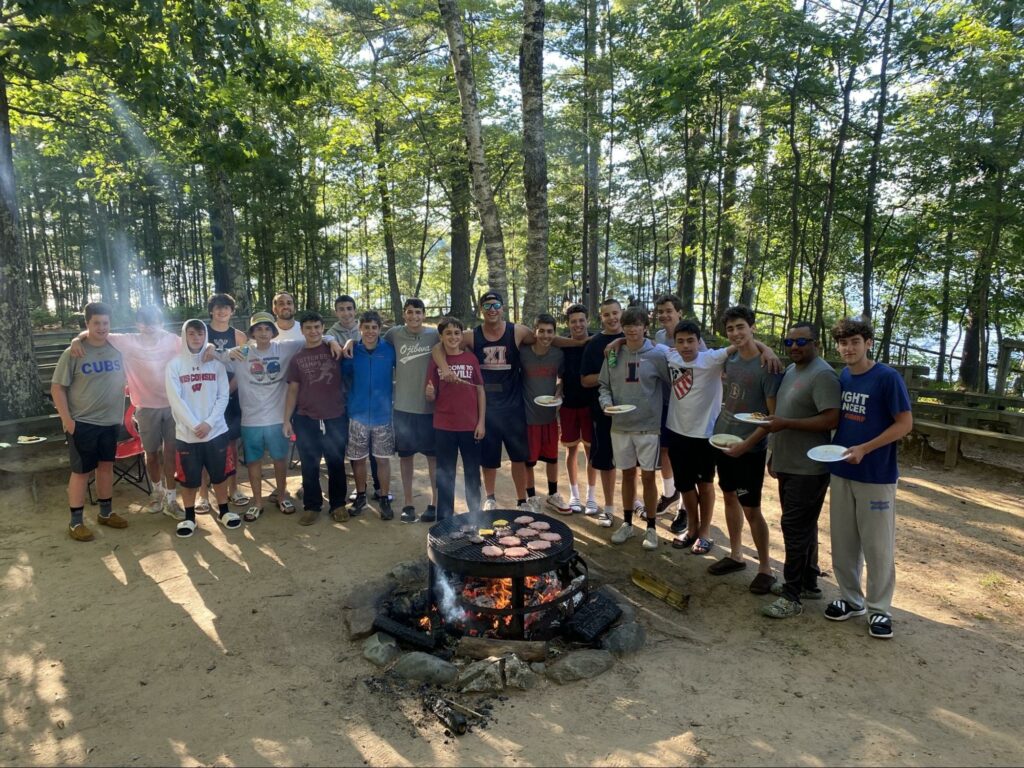 Camp Campfire Site
Hosting all of our all-camp campfires and Sunday Town Hall meetings, the Camp Campfire site is a place to reflect and celebrate the natural beauty of Ojibwa.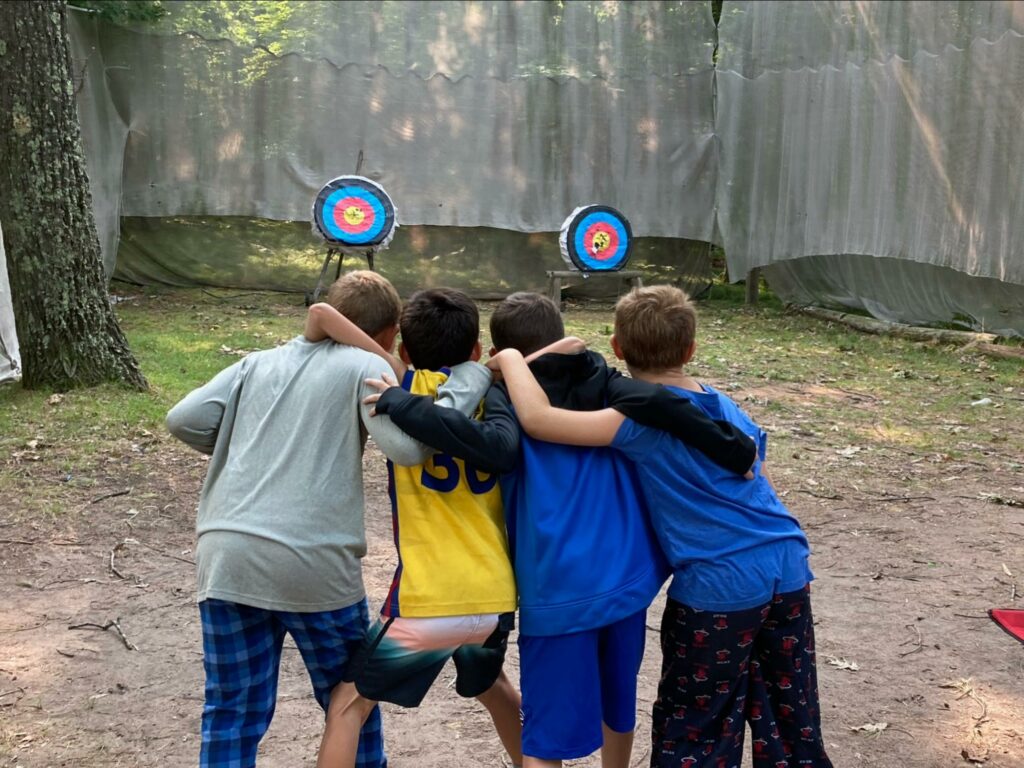 Archery Range
Safely separated from other activities, our archery range provides a variety of bows that can accommodate all ages and skill levels.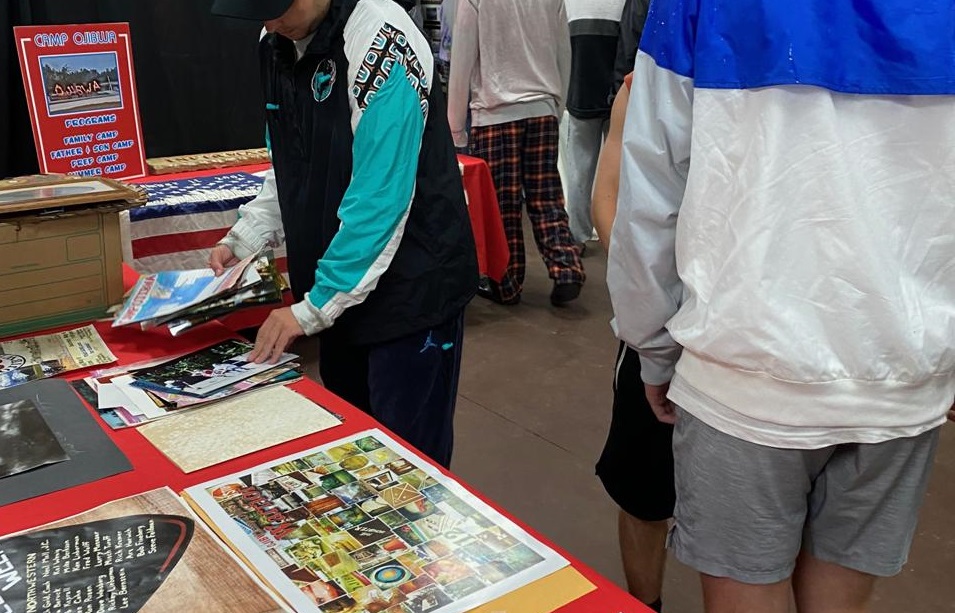 History Museum
In order to celebrate the rich history of Camp Ojibwa over the past 90+ years, we built a free-standing structure for campers, staff, alumni, and guests to see the incredible artifacts, pictures, and memorabilia.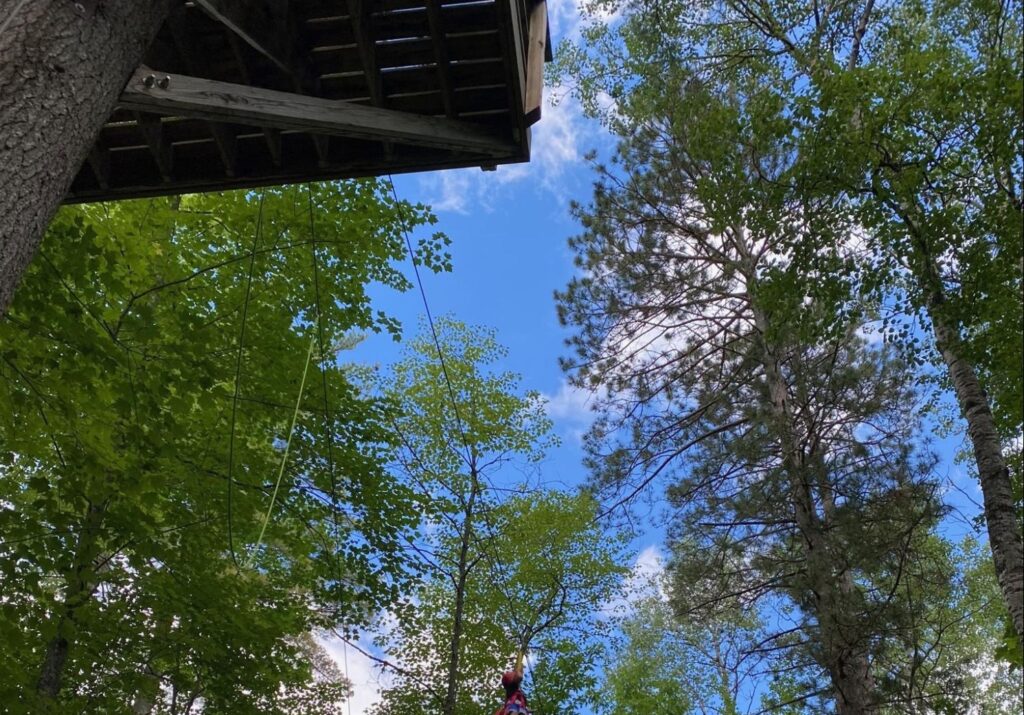 Zip Line
The Zip Line features a canopy tour through Ojibwa's swamp lands. Climb a towering 65' to reach the first platform and "zip away", across the wondrous swamps to the second platform. From there, our certified instructor will tether you to the second zip line and whisk you back to earth exhilarated and ready for another trip.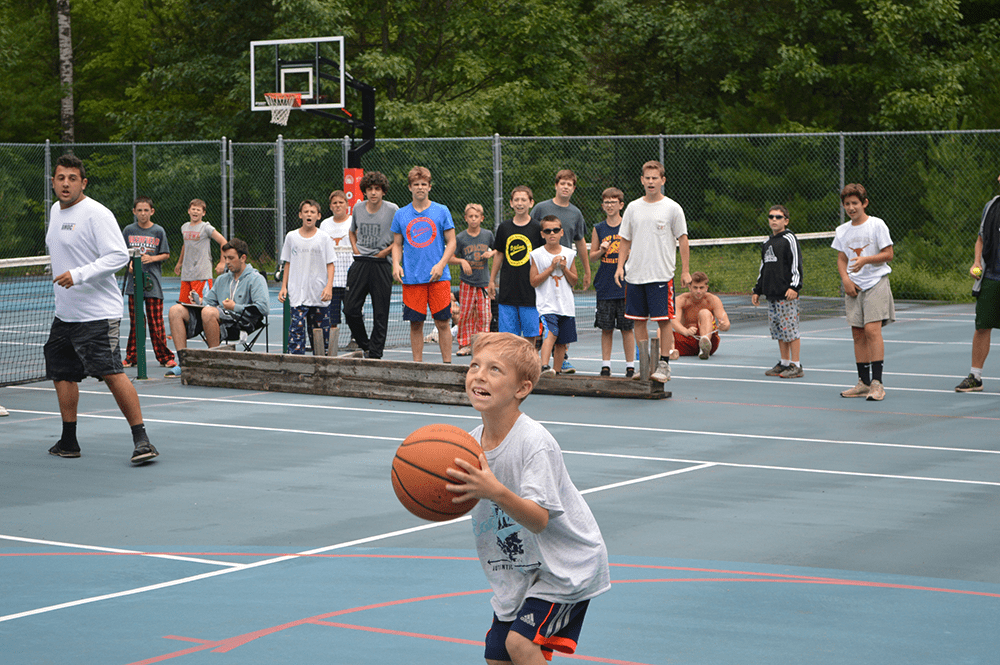 Lake Courts
Lighted courts which feature two regulation sized basketball, or two regulation sized tennis courts.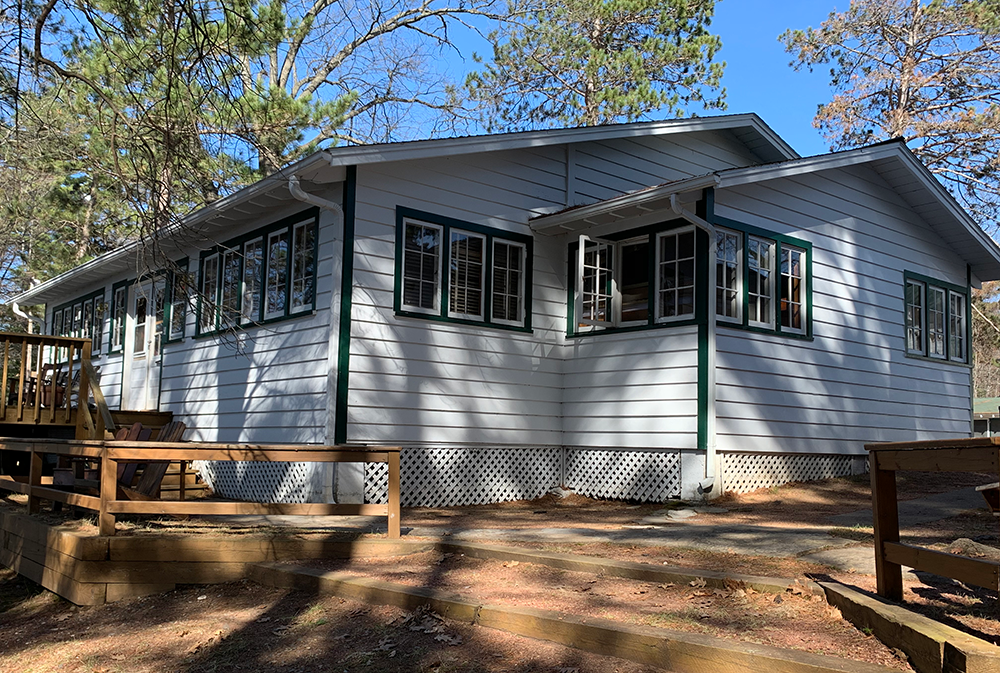 Cabin 14
Our oldest campers' cabin, and premiere accommodations, this lodge style cabin provides our oldest campers with a greater sense of independence and community. Campers are awestruck by the mystery of Cabin 14 and all strive to one day make it their summer home.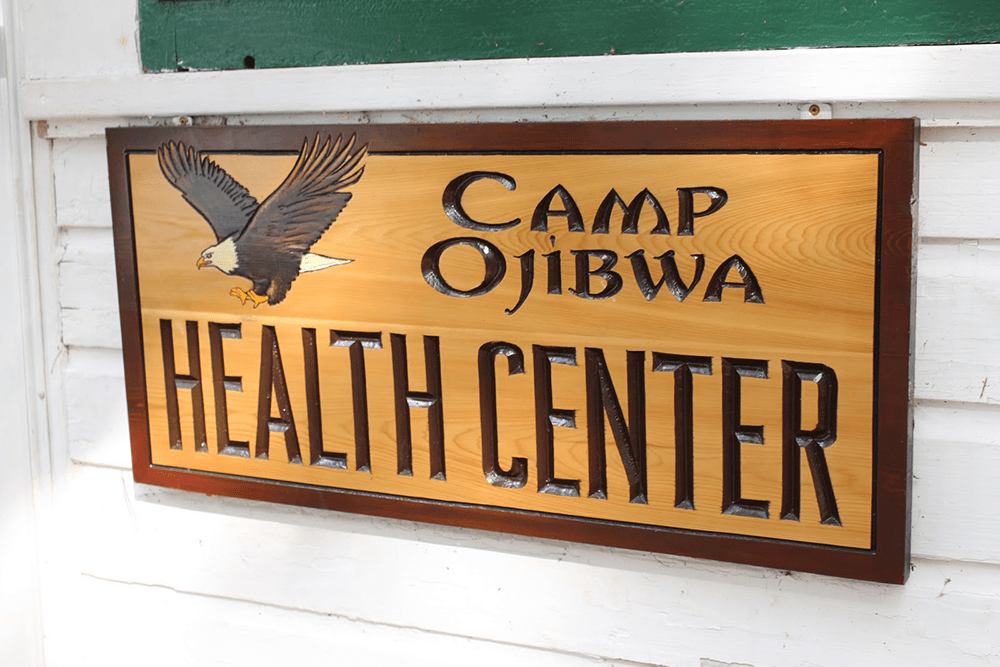 Health Center
Updated health center with two exam rooms and several rooms for campers who need to be admitted to stay overnight.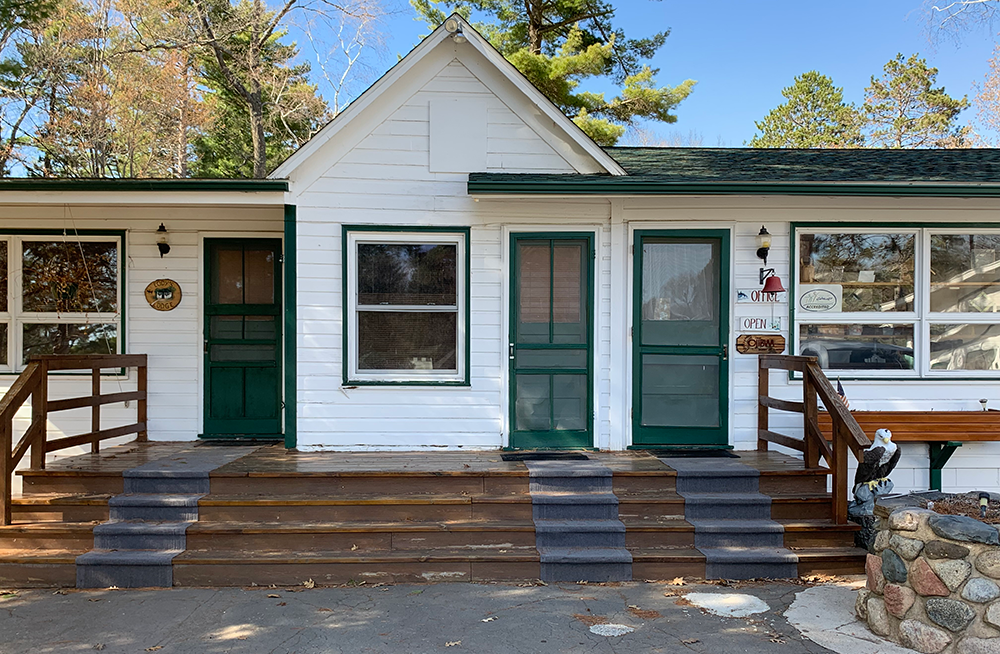 Main Office
The Main Office is home to our Head Staff and is the central nervous system of our operation. Our Directors and Administrative staff are available for campers to pop-in, or to respond to any parent requests. In addition, our main office is home to our sundries store where campers can purchase any necessities they may have run out of like toothpaste, toothbrush, shampoo, bug spray, sunblock, etc.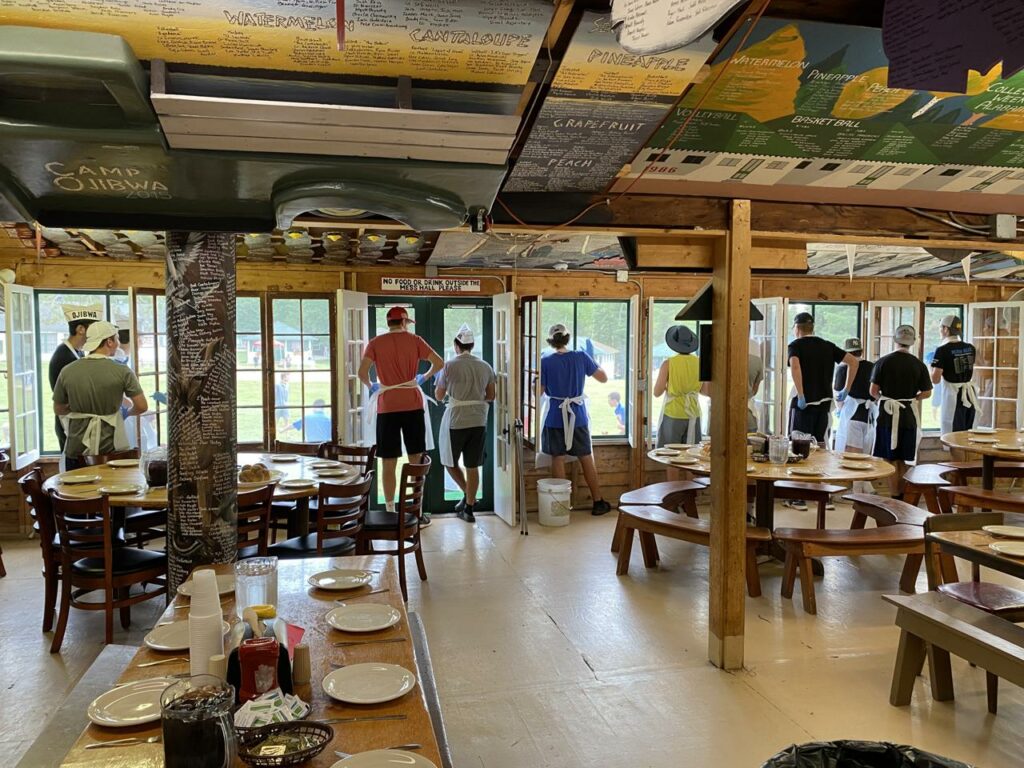 Mess Hall
Our historic Mess Hall is home to all of our wonderful meals served by Chef Kyle and our Kitchen team. The rich history can be felt the moment you step inside and are greeted with 90 years of plaques that feature the League and Collegiate Week champions. Each plaque features a different design and is a common topic of conversation during meal time.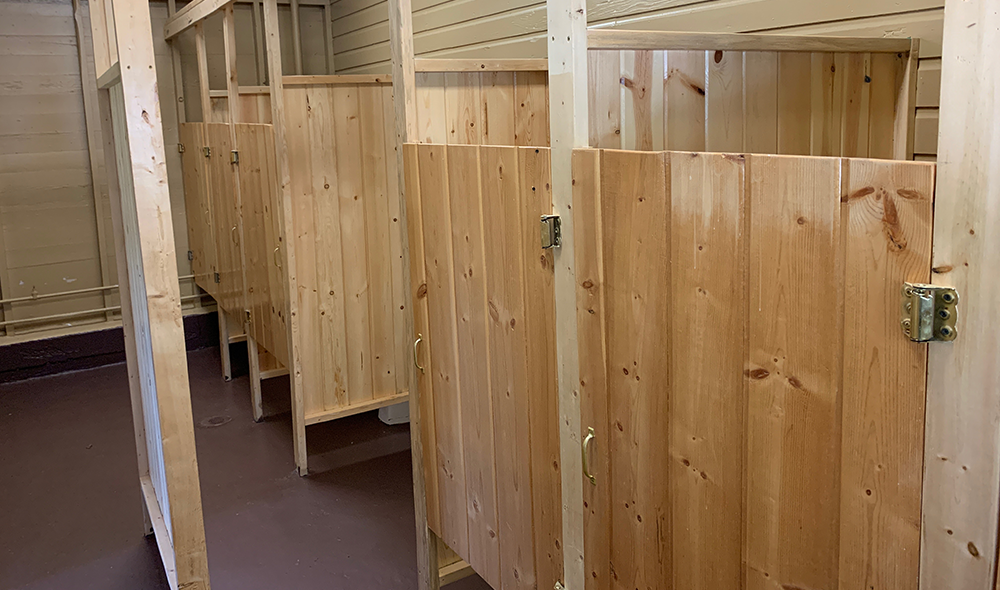 Bathrooms/Showers
Camp Ojibwa has three public bathrooms and newly updated shower houses dispersed evenly throughout camp, conveniently situated nearby every cabin. Every night before bed, the counselors make sure campers shower after the day's activities. Showers are available with full privacy in individual stalls with shower curtains. All cabins at Ojibwa have private bathrooms.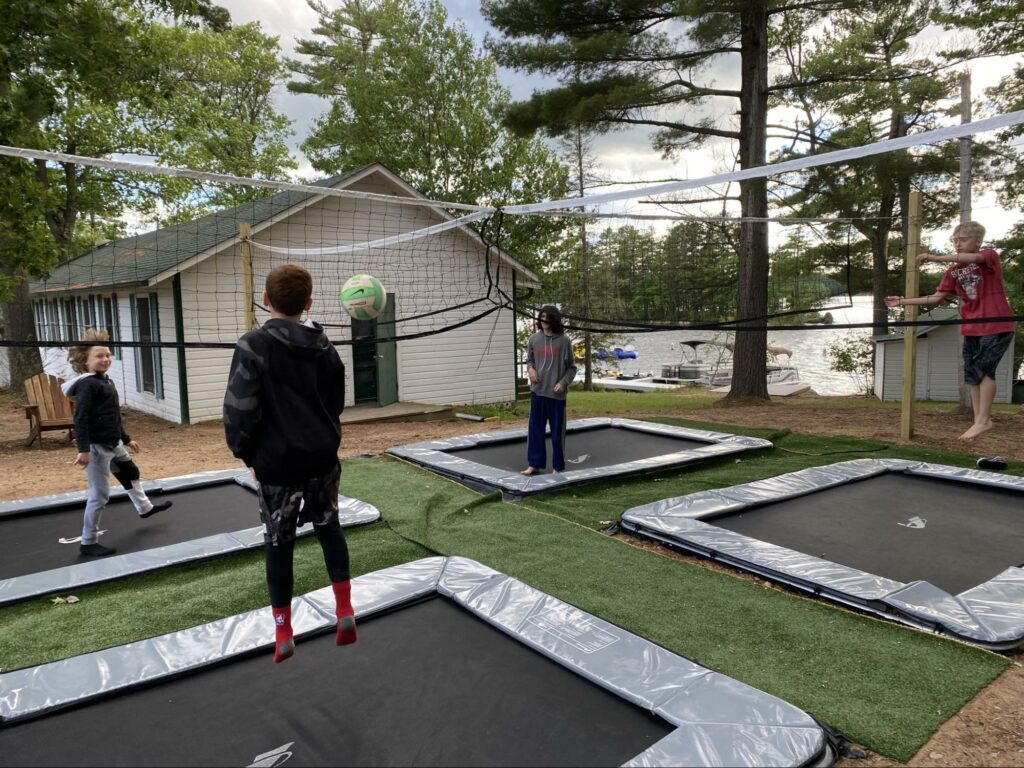 Tramp Ball
A new addition to the Camp Ojibwa grounds, tramp ball has become a favorite among campers, counselors and staff alike! Rarely is there a time when it is empty as the boys love to make up their own games, play traditional tramp ball, or just bounce around. Some even like to sit or lay on the trampolines!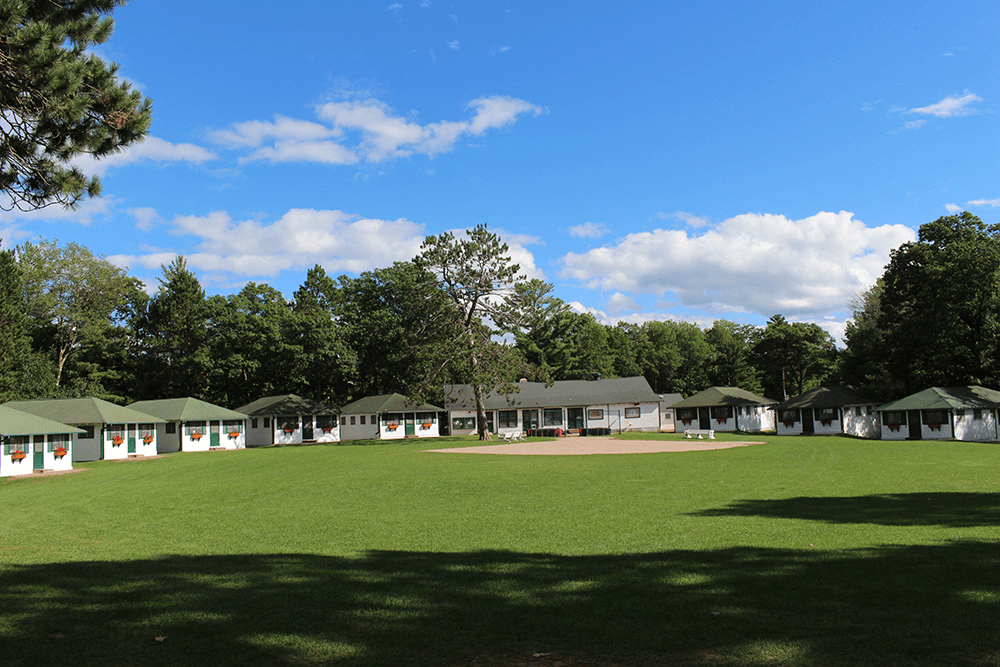 Main Campus
Our featured softball diamond is home to Cabins 1-13. The cabins surround the Main Campus in a semicircle, inviting campers of all ages to step out into the most maximally inclusive environment.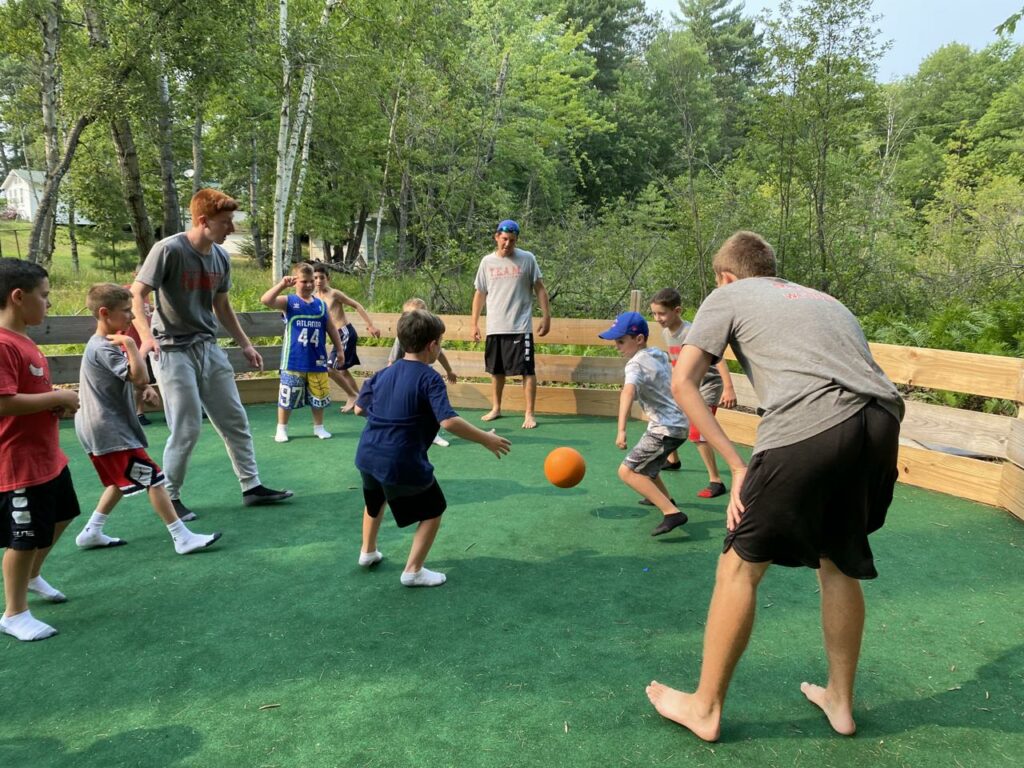 GaGa Pit
Our GaGa pit, located just outside our youngest camper cabins, features a turf floor and wood siding, with enough room to support huge GaGa matches.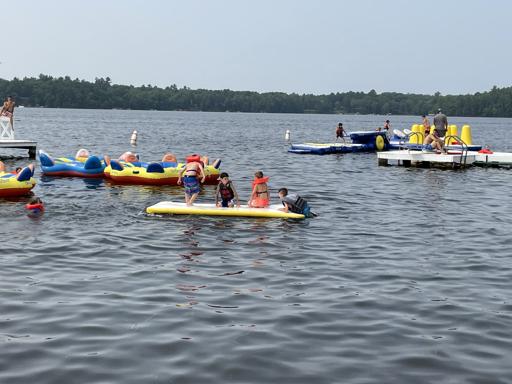 Waterfront
Home to a wide variety of waterfront activities including swimming, canoeing, kayaking, paddle-boarding, skiing, tubing, fishing, sailing and more, our waterfront is a focal point of the campgrounds.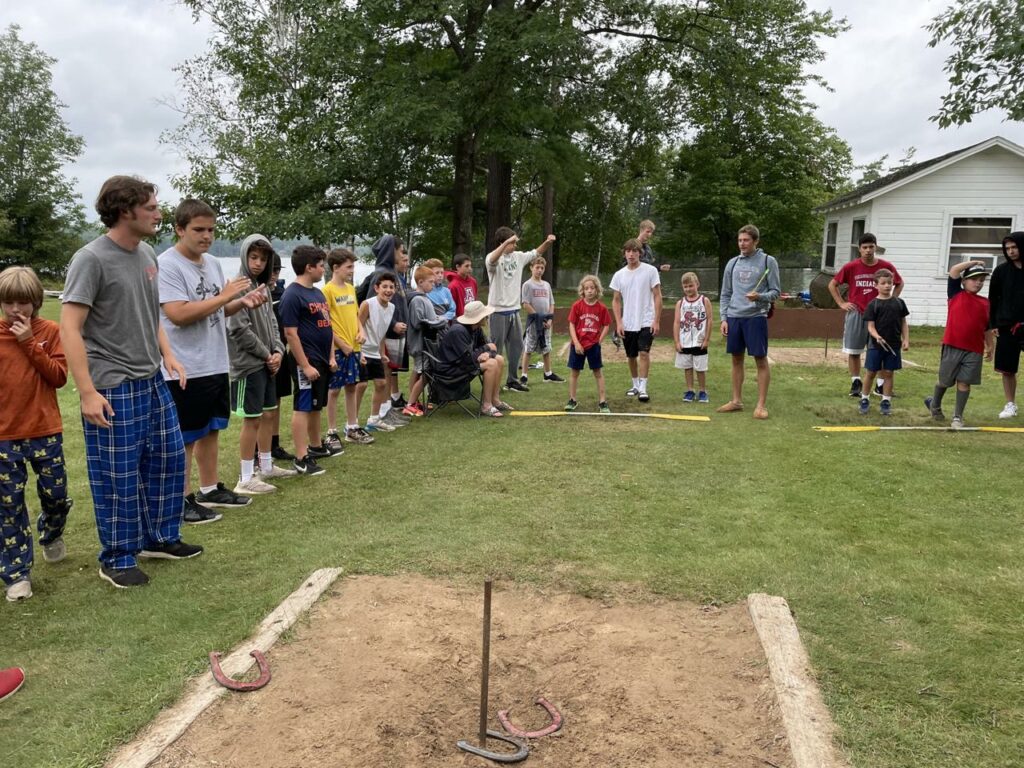 OJ Park
History and tradition live at OJ Park! Come and play miniature golf, throw horseshoes, have a famous Ojibwa box hockey battle, or hit golf balls into our driving range nets- all while overlooking the glorious Catfish Lake.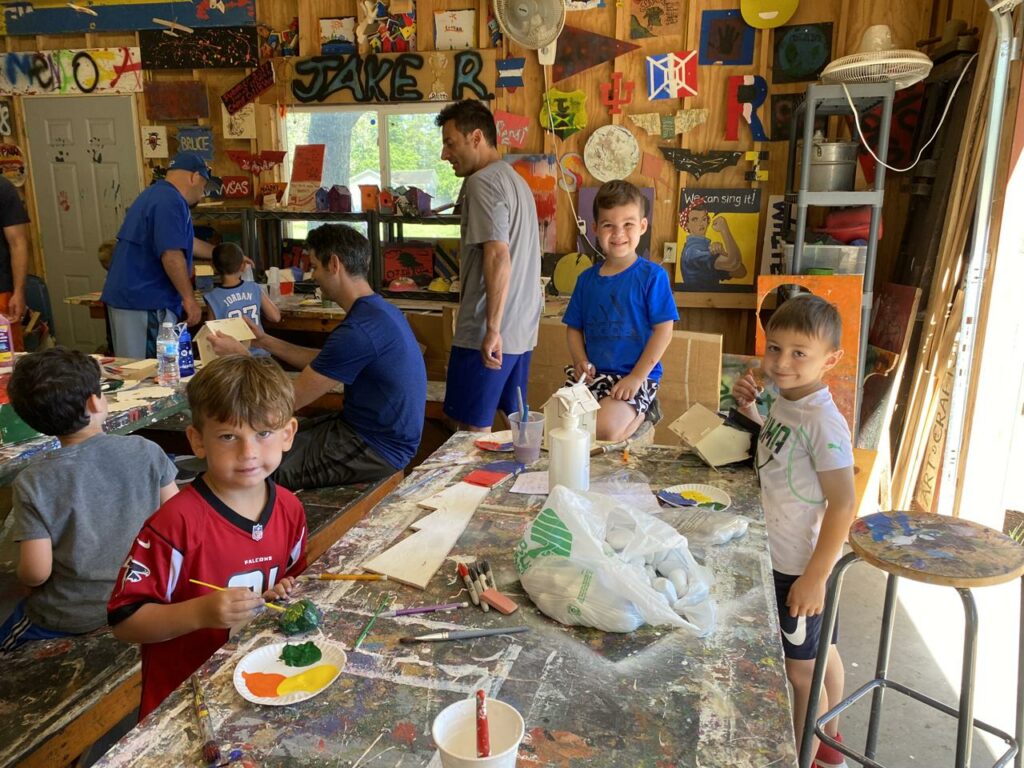 Arts and Crafts 
The Arts and Crafts garage is a focal point during Rec Period. Here campers enjoy drawing, painting, building popsicle stick structures, dream catchers, lanyards, kites, airplanes, and many other craft projects.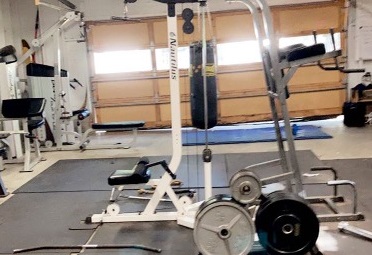 Muscle Beach
A fully stocked weight room featuring all of the free weights and machines that you need to get swole. During Rec Periods there are always experienced lifters on duty promoting safety and technique. Use is restricted to older campers and staff.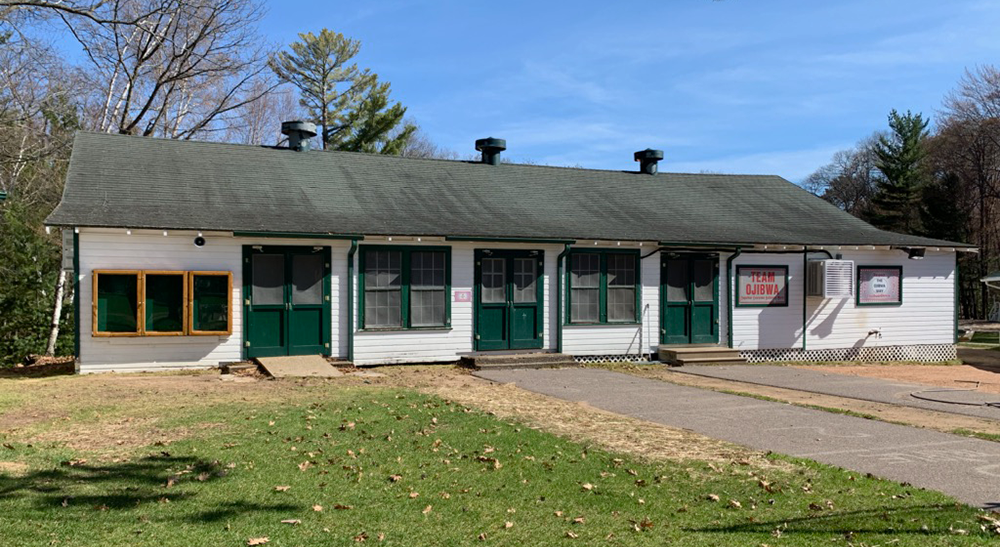 Rec Hall 
Home to our stage and screen events, the historic Rec Hall is where we host many of our all camp gatherings and social events. Together the campers watch movies, play Blizzard Bingo, participate in our Rock-Paper-Scissors tournament and enjoy many other late evening activities.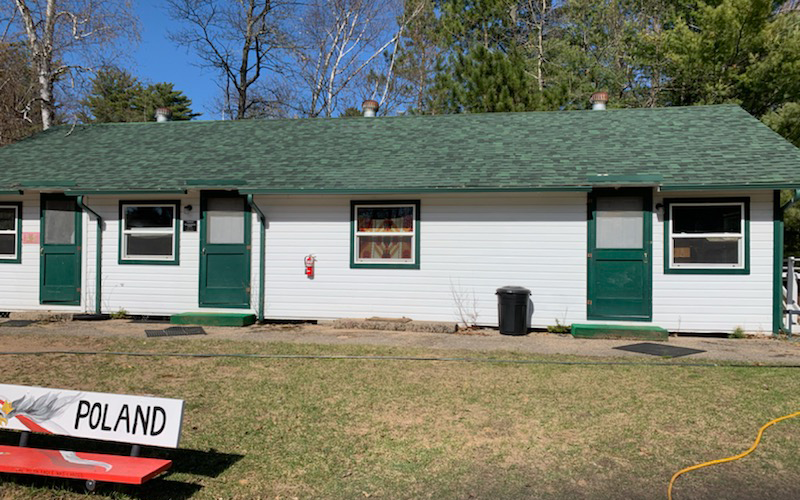 Cabin 15 
Cabin that is primarily utilized for visitors and staff which houses up to 34 people and features a private bathroom with toilets, urinals and sinks.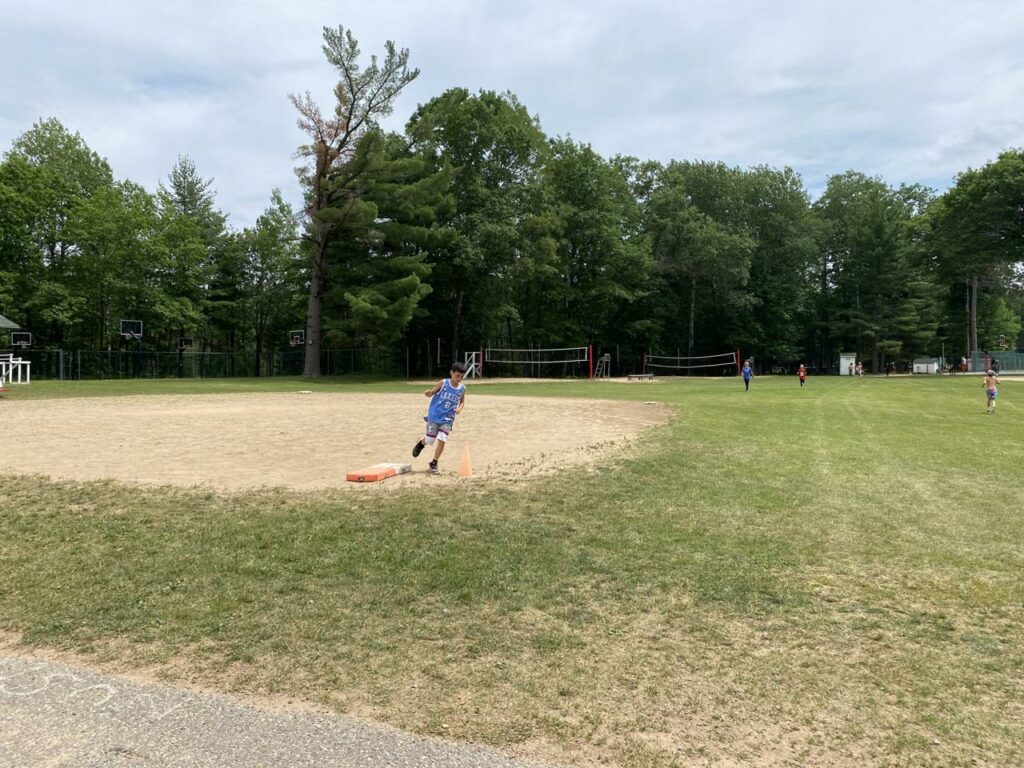 Diamonds 2 and 3
Two additional softball fields that are used to play 12" or 16" softball during league play along with extensive field space in between for all kinds of activities.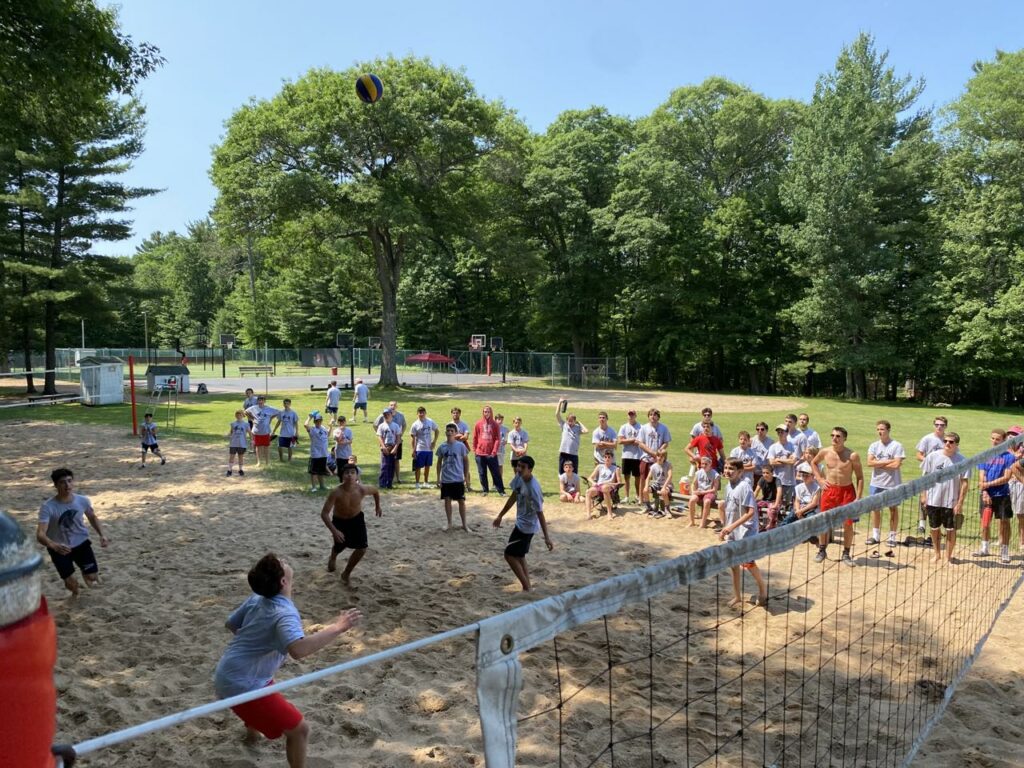 Volleyball Courts 
Our three sand volleyball courts are used for league play and are also home to many fun Newcombe games.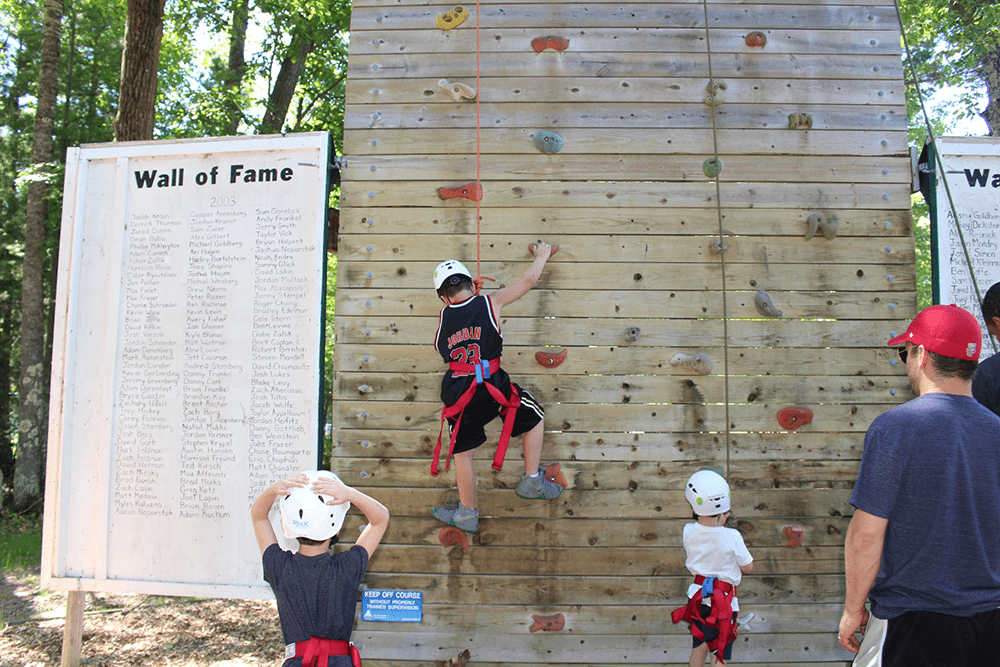 Climbing Wall "The Monster"
Camp Ojibwa's 55' "Monster" climbing wall provides challenges for climbers of all ages and skill levels.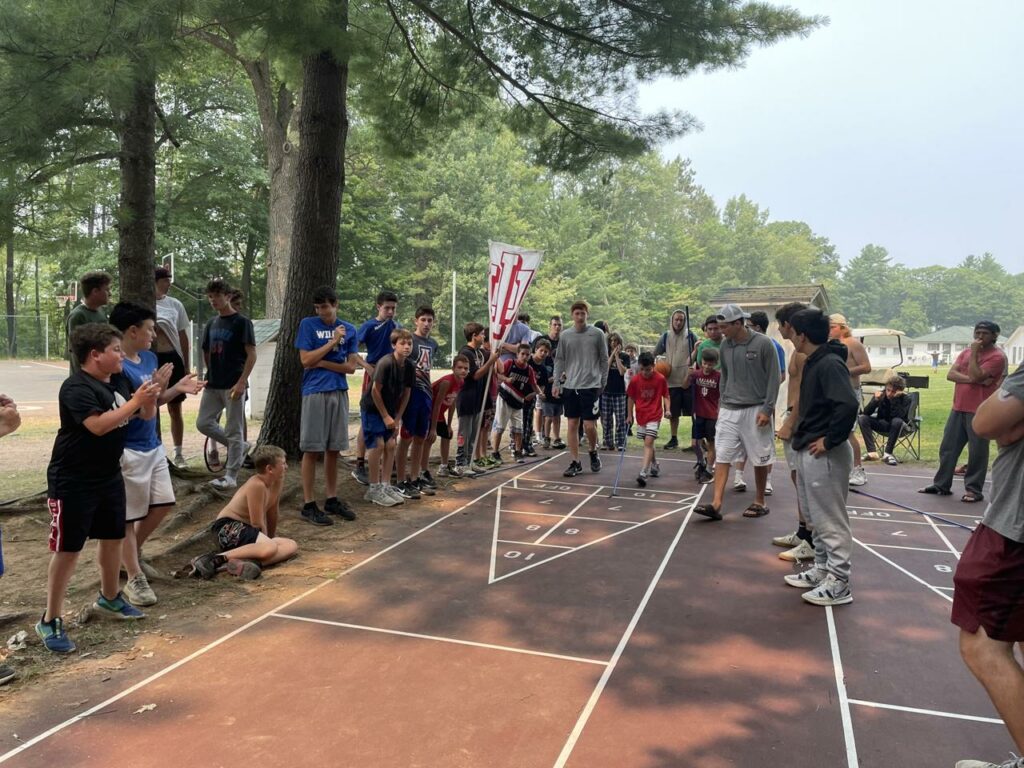 ShuffleBoard
A favorite Rec Period activity combining strategy and skill, Shuffle Board is also a featured event for our Prep teams in the Ojibwa Olympics and Collegiate Week.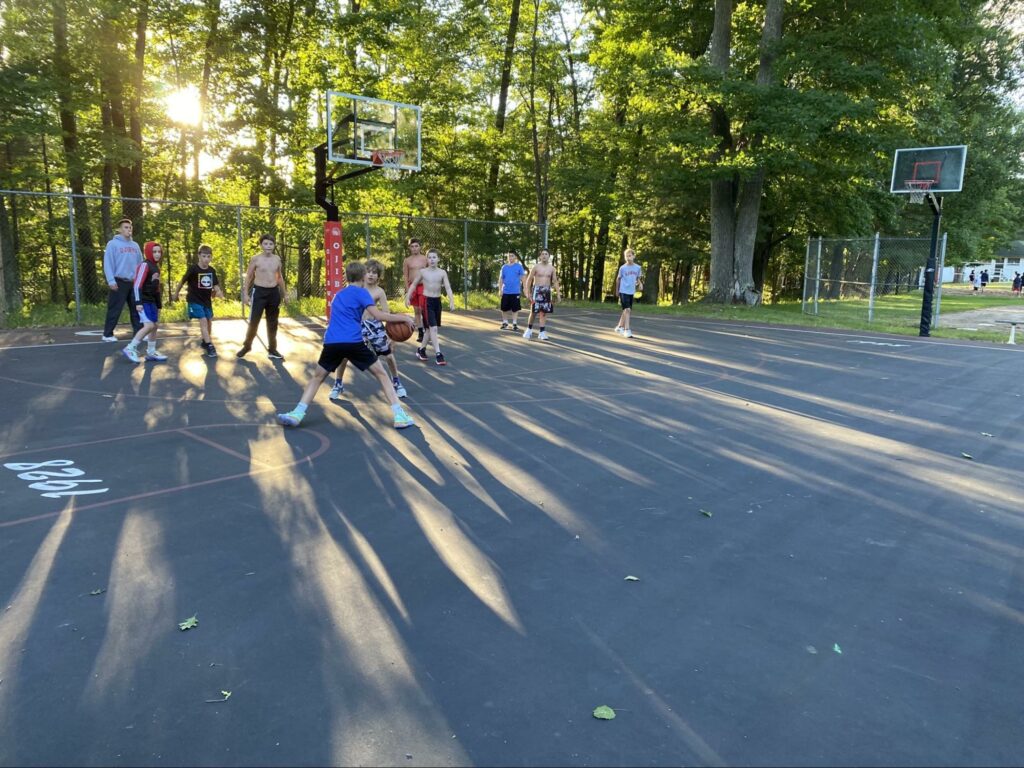 Trail Basketball Court 
The Trail Basketball Court is our Featured Court, and was just refurbished in 2016. It features a forgiving surface and scoreboard to help keep score of our Grapefruit, Pineapple and Watermelon games.  It also features two courts with 9' baskets for our Peach league.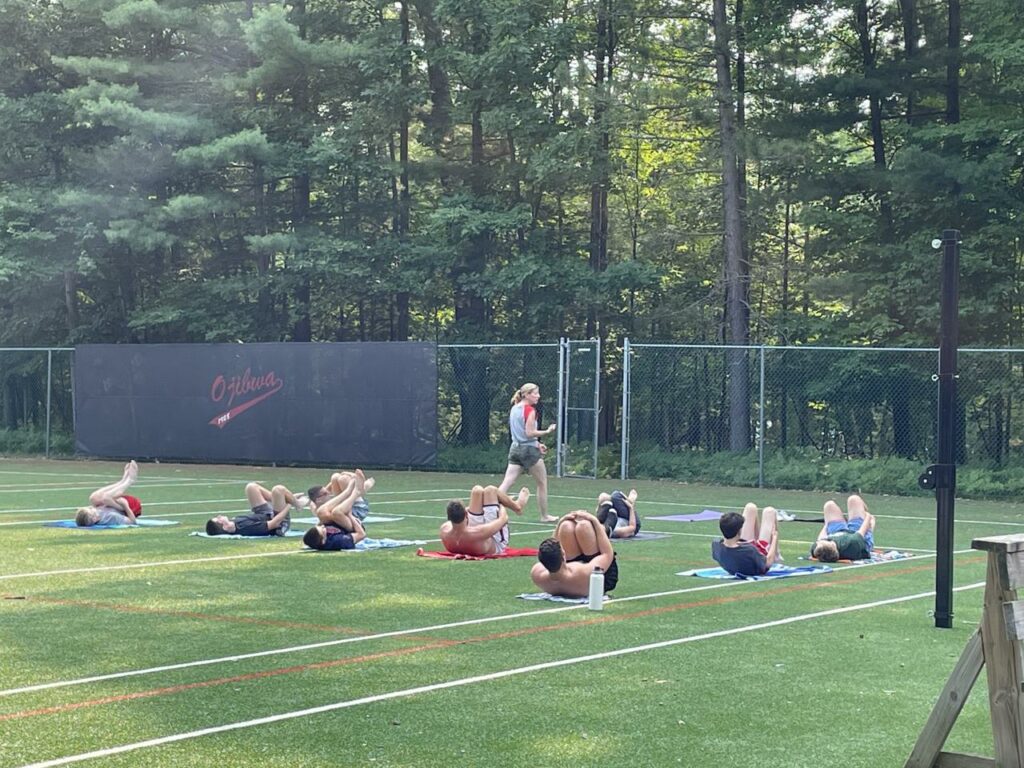 Trail Tennis Courts 
Our three Trail Tennis Courts were resurfaced in 2019 to feature an artificial turf surface that can be reconfigured to act as one large field when we remove the tennis posts.  The Trail Tennis Courts are used for tennis, pop tennis, dodgeball, yoga, soccer clinics and other turf sports as well.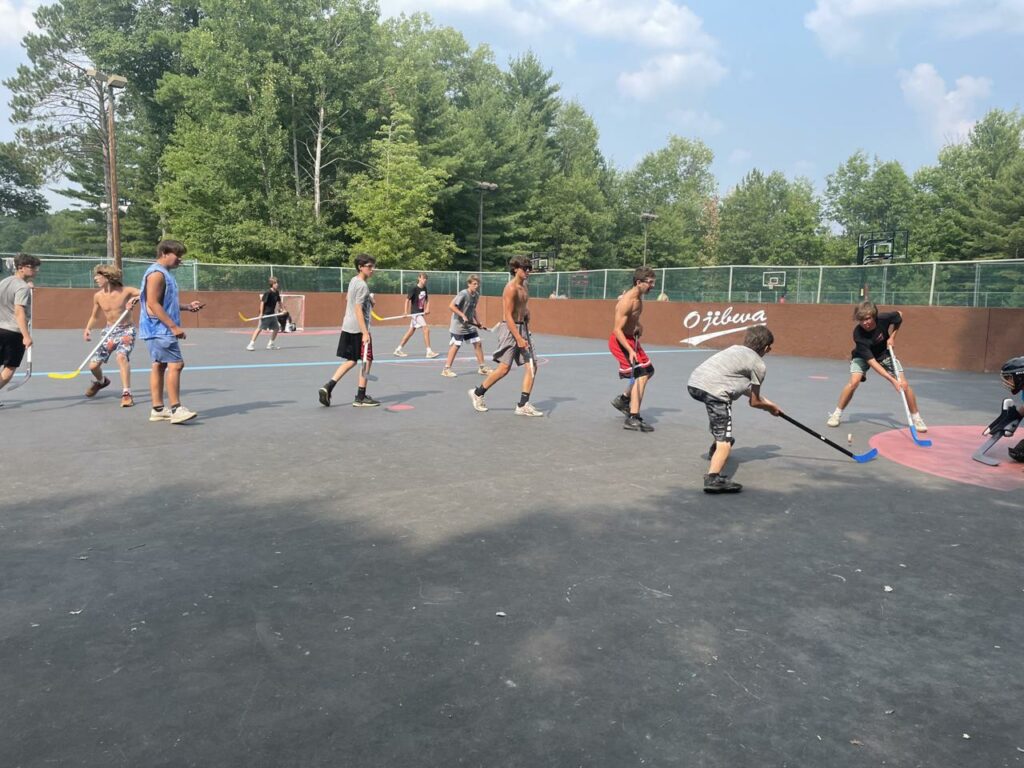 Hockey Rink 
The Hockey Rink features three floor hockey courts with lights to allow for late evening hockey match-ups and to utilize the courts for other Late Evening programming.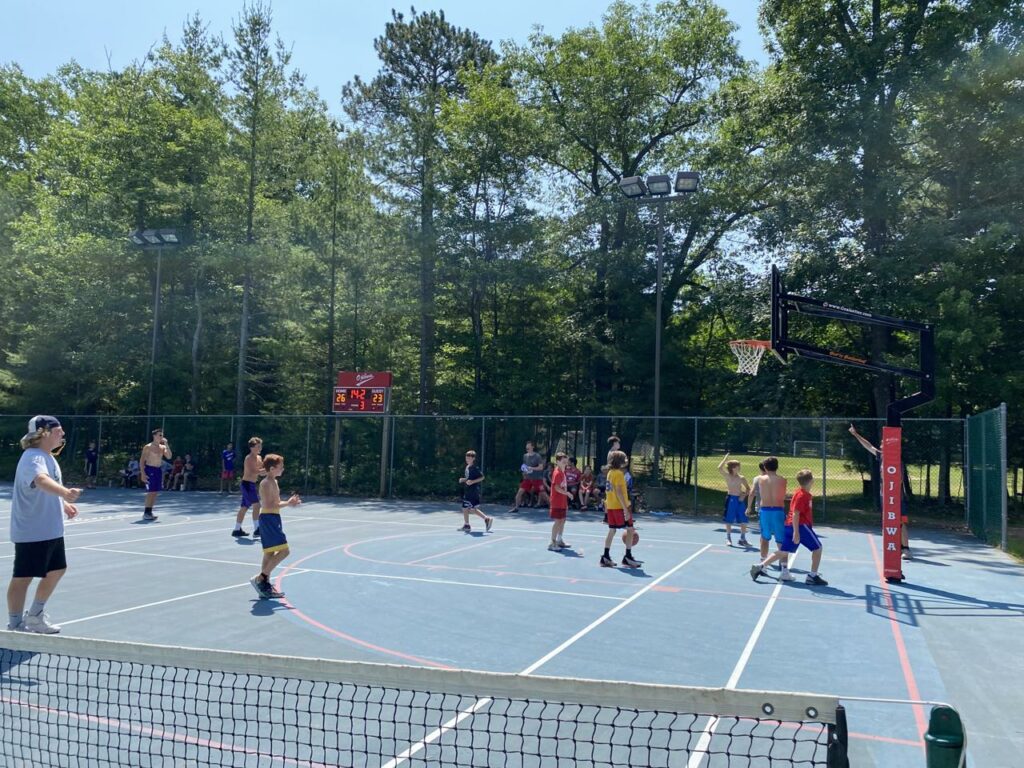 Patriot Courts 
The Patriot Courts feature two lighted basketball and two tennis courts, and were resurfaced in 2019.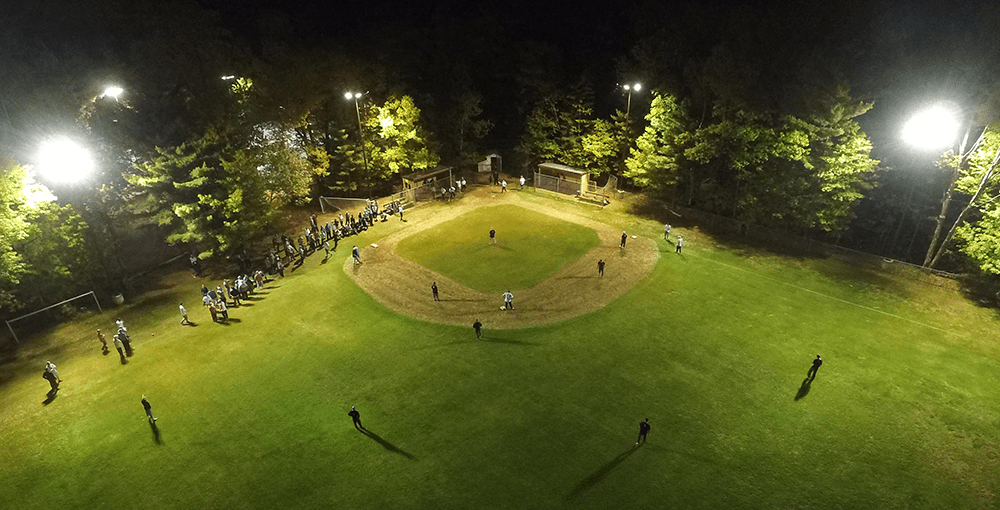 Field of Dreams 
This authentic baseball diamond features home and away dugouts, lights, and a tall fenced backstop. We utilize the Field of Dreams for baseball and softball.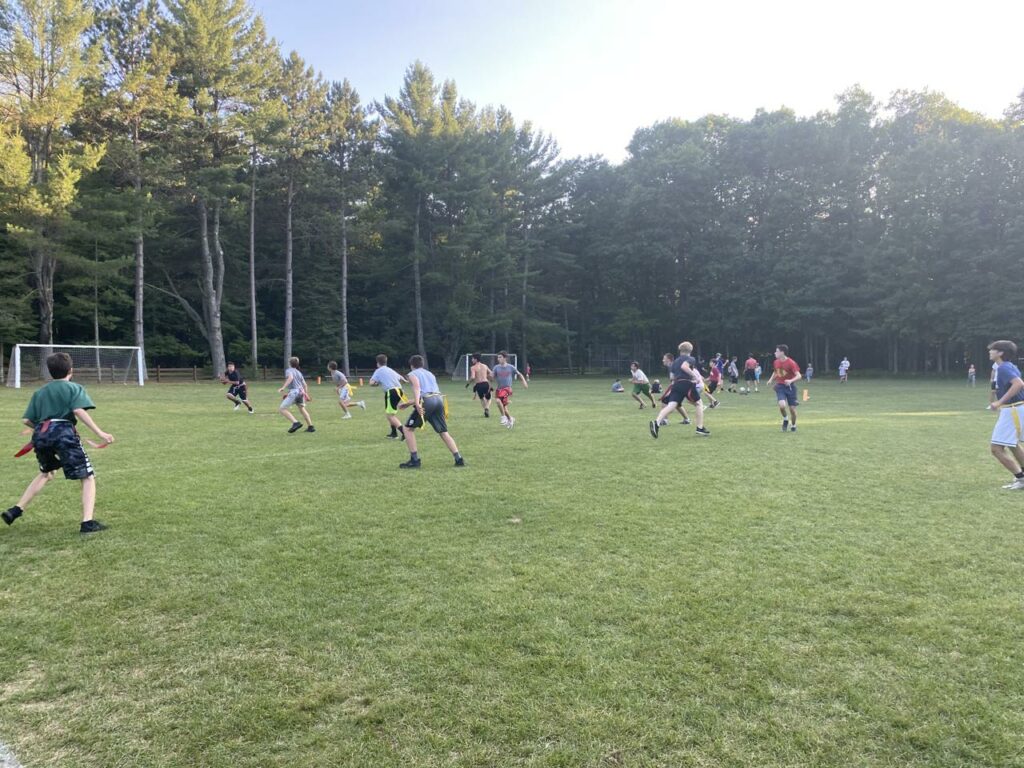 Far Field 
The Far Field features three soccer/flag football fields and can be used to host three additional softball fields, if needed. The Far Field is home to All Camp events like Capture the Flag, and with a portion of the field having lights, we are able to play late evening games as well.